Four Reasons to Relocate from Los Angeles to Las Vegas
Four Reasons to Relocate from Los Angeles to Las Vegas-Are you considering a move from Los Angeles to Las Vegas? Leaving California? If so, you are certainly not alone. In recent years, there has been a significant influx of Californians relocating to the Silver State for a variety of reasons. Here are just four reasons why you should join them!
The Cost of Living is More Affordable in Las Vegas
No matter how much money you make, it always seems like it's never enough when you live in Los Angeles. That's because the cost of living in LA is sky-high, thanks in large part to the high price of housing. The median home price in Los Angeles is over $600,000, whereas the median home price in Las Vegas is just over $300,000. even if you're renting, you'll find that your monthly rent will be significantly lower in Las Vegas than it would be in Los Angeles. In addition to housing costs, you'll also find that the cost of groceries and other essentials are more affordable in Vegas as well. Leaving California might be a great idea!
There is No State Income Tax in Nevada
If you're tired of shelling out a chunk of your hard-earned income to state taxes every year, then you'll be happy to know that there is no state income tax in Nevada! Whether you're employed or self-employed, you'll keep more of your money when you live in Las Vegas.
The Weather is Better in Las Vegas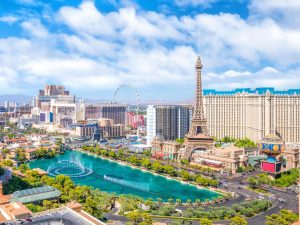 If you're sick and tired of the endless gray days and miserable traffic that come along with living in Los Angeles, then you'll love the weather in  Vegas. With an average of 310 sunny days per year, you'll be able to enjoy all that Sin City has to offer year-round! And because there is very little rainfall throughout the year, you won't have to worry about spending your days cooped up indoors when it's raining outside.
Our weather is very seasonal. Just when you have had enough of the heat, it starts to cool down. When you have had enough of the cold, it starts to warm up!
We have it all! From Skiing, to hiking, to boating in Lake Mead, our weather is amazing!
There are No Crowds in Las Vegas
One thing that everyone who lives in Los Angeles can agree on is that there are way too many people! If you're looking for a place where you can escape the hustle and bustle of city life, then look no further than Las Vegas. Although the city itself is home to over 2 million people, it sprawls out over an area of nearly 600 square miles. This means that there are plenty of places to get away from it all without having to leave the city limits!
The only crowds are at special events and on The Strip. In our communities outside of The Strip, it's rare to see a huge crowd. Want to dine at your favorite restaurant? Go ahead! It's not going to be crowded!
Conclusion:
As you can see, there are many reasons why Leaving California makes sense and relocating from Los Angeles to Las Vegas may be a good idea for you and your family. From the affordability of living expenses to the beautiful weather and lack of crowds, Sin City has a lot to offer its residents! So what are you waiting for? Start packing your bags today! Call me today to find out more about Las Vegas living as well as Las Vegas real estate. 702-768-2552. Be Sure to check out my web site: www.lvrealty4sale.com