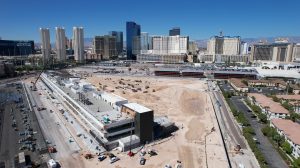 Las Vegas Formula 1 Racing November 16th-18th will once again transform Las Vegas. Over the past few years, Las Vegas has re-invented itself. From NHL, NFL and MLB, Las Vegas has it all. It's still missing the NBA but now it's added Forumla 1 racing to it's sports venues. Currently, Formula 1 is spending over $400,000.000.00 in building it's flagship racing complex just east of the Las Vegas Strip. Formula 1 Racing will be at night on November 16th to the 18th. These racing vehicles will reach speeds up to 212 MPH on a course that will pass the MSG SPhere, several Las Vegas Strip Hotels as well as off strip hotels too.
The Long Term Plan:
Formula 1 has stated to the public that they want to race in Las Vegas for more than 10 years. Their investment is massive. The track covers the streets of the Las Vegas Strip as well as streets to the east of the Las Vegas Strip. Formula 1 cars need a track that is up to regulations for that kind of speed above 200 MPH. This meant repaving the Las Vegas Strip and the side streets so that the cars can perform safely and at current Formula 1 standards. Formula 1 is here to stay! The Las Vegas Strip Hotels are also behind the project. This will be a massive game changer to the area as well bringing in more tourists from around the world.
Formula 1 Las Vegas 2023 tickets can be found here: https://www.f1lasvegasgp.com/tickets
Formula 1 Las Vegas 2023 tickets start around $500.00 for standing room only and can go over $3,280.00 for grandstand locations throughout the course.
Las Vegas Formula 1 Track: 
The Formula 1 track and circuit length is 3.8 miles overall with  17 corners, 3 straights and 2 DRS zones. Speeds will reach up to 212 MPH up and down The Las Vegas Strip. This will truly be an epic sport to watch and to participate in. You can check out the track here: https://www.f1lasvegasgp.com/track-layout  
Las Vegas Formula 1 track will have amazing views of the surrounding area as well as the race too.
This is going to be an amazing local event with worldwide coverage! Las Vegas is truly transforming itself once again. Formula 1 Las Vegas 2023 will showcase our city and show the world once again Las Vegas knows entertainment!
For more information about the race, please read below and check out my drone footage video below.
Construction and Drone Footage Video: 
You can check out my latest drone footage of the Formula 1 building here:
If you have any questions about Las Vegas, Las Vegas real estate, relocating to Las Vegas please contact me anytime. You can call me directly at: 702-768-2552 and be sure to check out my community pages listed above as well as other pages about financing and other real estate related topics.