This month I want to focus on the Las Vegas Housing Market April 2020. This is an important blog because I want to use data along with facts to show what our local real estate market is doing.
Supply of Homes: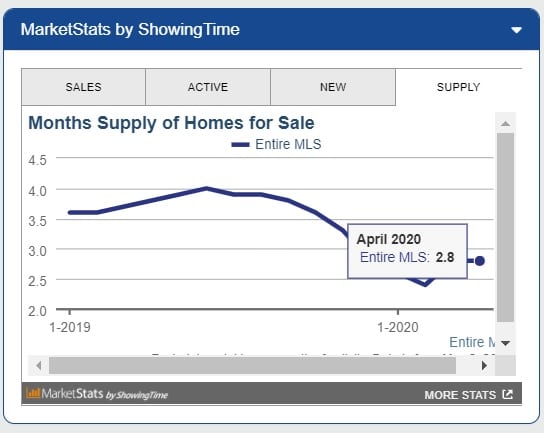 Currenty, there is a 2.8 month supply of homes which means that we would run out of homes to sell in less than 3 months if no new homes hit the market for sale. This number is not bad, and it's not good. It's in the middle for right now. In my opinion, I think there is a lot of junk listings out there that are over priced. This means some buyers may see a good deal out there and get some extras out of the deal. Don't be affraid to ask for a lover price and maybe closing costs too from the seller. Anything over 30 days on the market and you need to ask yourself…. WHY? 
New Homes Coming Into The Market: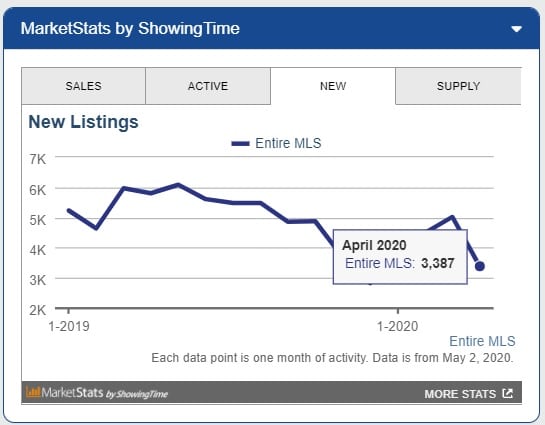 In April we saw 3,387 new MLS listings hit the MLS compared to 5,023 in March. This is a small down turn in listings (-1,636) added to The MLS due to the Covid-19 threat. In a way this is actually a good thing for the market. It keeps the inventory small while demand is still there. This also helps to stablize pricing in the market since people are not willing to settle for a huge price reduction. We may see some pricing go down but not that much. Buyers still may find that they are either paying list price or close to list price on homes that have a huge demand for them. If a home has been on the market longer than 30 days, there may be a chance of a price reduction. 
April Real Estate Sales in Las Vegas: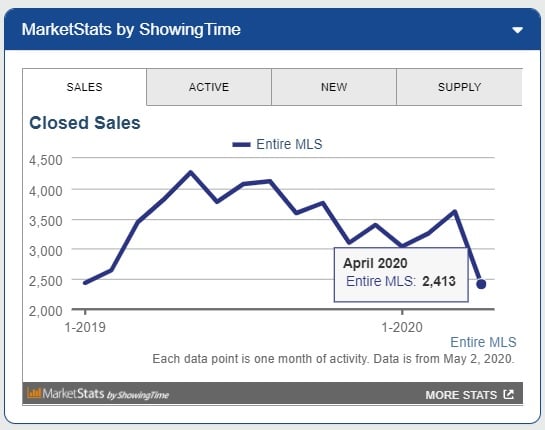 Sales were also down in April. Sold transactions were 2,413 compared to March sales of 3,619. (-1,206) They were also affected due to limitations of travel, government restrictions, lack of open houses, and the ability to show homes in person. Also, we saw a lack of new inventory that came into the market place that also impacted sales as a whole. 
My Thoughts On The Current Market: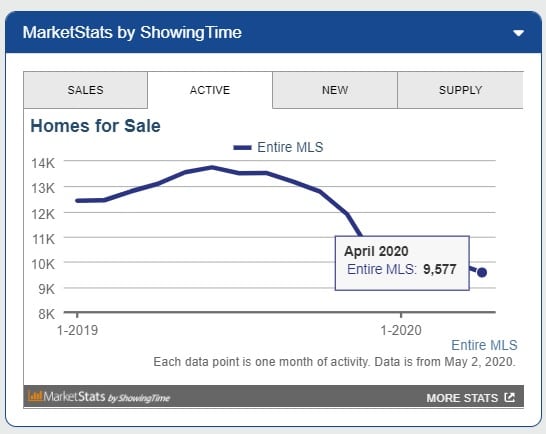 9,577 homes, town homes and condos are currently for sale on the MLS. Usually a buyers market would be around 11,000 to 14,000 homes, town homes and condos. We are way under that number right now. This is making some homes that are in demand due to pricing, location and availability more than likely they will get list price or close to it. If the home has been on the market longer than 30 days, you may see a price reduction or a lesser than listed offer. I personally feel that some homes will be a sellers market and some homes will be a buyers market. There is still a lot of demand from buyers right now. If the local economy picks up by June or July things will improve. If not, we may look at a down turn in the market that could have long lasting affects.
Las Vegas Housing Market April 2020
The good news is that inventory is low and will remain low for the next few months. If people lost their jobs, they have zero reason to sell. The government housing forebearance programs will allow someone to stay in their home for awhile. This means they are not motivated to sell. Demand will still be strong as well as we move into the summer market. This is usually a very busy time of year in real estate. If you are a buyer right now, think about your finances and job situation. If you can pay for a home and hold on to it for the next 3 years, you should be ok. If not, do not buy right now. Wait out the market and economy. 
If you have any qustions about the Las Vegas Housing Market April 2020, please contact me anytime at: 702-768-2552. 
Check out my community pages for housing information! https://lvrealty4sale.com/communitiy-pages-in-las-vegas-and-summerlin/
All of the above data has been provided by https://www.showingtime.com/marketstats/