The Ridges Summerlin Homes for Sale
Are You Looking For a Luxury Lifestyle in a Gated Community?
Look no further than The Ridges Summerlin! Semi Custom and full Custom homes await you in this part of Summerlin. Located approximately 5-7 minutes south of Downtown Summerlin, the community offers you a guard gated luxury home community surrounded by mountains and amazing city views. Above all, The Ridges has huge lot sizes, and a variety of home styles to choose from. If you can dream it, it can be built here! If you have any questions about this beautiful village, call me today to discuss your future real estate needs!
Additional Information About The Ridges Summerlin:
Pricing for single family homes starts around 1.8 million+ and goes into the 15+ million dollar pricing point. Square footage ranges from over 2,700 square feet to over 10,000 square feet. Most home showings will require an appointment. Currently, there are some vacant lots that you can customize your home on. For more information on a custom lot, please contact me. there are also several homes on the MLS that come up for sale.
Toll Brothers also created a condo subdivision within The Ridges that feature elevator access units, over 2,000+ square feet two story condo's for people that do not want the upkeep of maintaining a backyard but also want the privacy of living in a controlled access community. Pricing for these condos start around 1.1 milion dollars and can go up to 2 million dollars. 
The Ridges has tennis courts, a club house, community pools and great walking paths throughout the community. Several homes in the community will have a view of the city as well as a great view at night of the world famous Las Vegas Strip.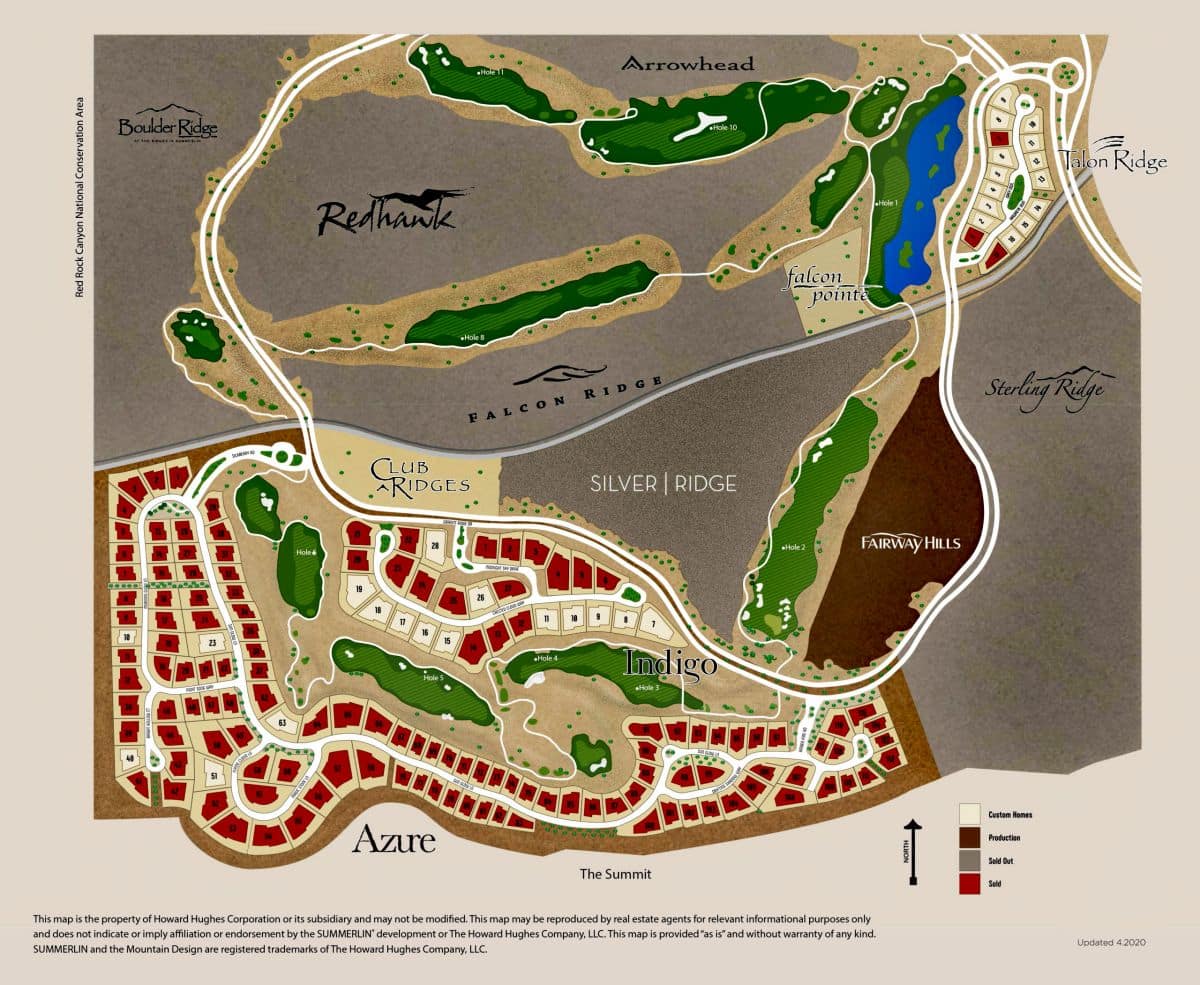 Golf Course and Community Information:
The Ridges Summerlin Village is a 793 acre exclusive guard gated residential village with several custom home site neighborhoods that make up The Ridges Summerlin. The interior gated communities include Falcon Ridge, Arrowhead, Promontory, Redhawk, Rimrock, The Pointe and Azure.
The Bear's Best Golf Course is featured through out the community in The Ridges. Besides a beautiful golf course, there are Tennis Courts, walking trails, a community gym and pool. These are just a few community offerings in The  Ridges. In addition, there are homes built by William Lyons and Toll Brothers as well as custom home sites and custom builders.
The Ridges offers an amazing life style. Luxury homes that blend into the natural environment of the community and show case the surrouding areas. Scroll below for current listings of available properties in The Ridges. 
Check out www.summerlin.com for more information about the surrounding area.
The Ridges Summerlin Area Drone Footage in 4K
Below are the latest videos from The Ridges Summerlin Video Playlist.
The Ridges Summerlin Active Homes For Sale
Below are the latest listings for sale in Summerlin, NV

Sorry we are experiencing system issues. Please try again.

November 1, 2023
Are Short Sales In Las Vegas Coming Back? Good question, let's start off with what a short sale is. First off a Short Sale is when you owe more than what the home is worth. Example: Your home is worth $400,000.00 and you owe $450,000.00. The short sale amount is
[…]
October 28, 2023
1 Acre of Land in Summerlin is Worth How Much Money? According to a new article in the Las Vegas Review-Journal, 1 acre of land in Summerlin now has a price of $1,270,000.00 per acre. Land prices as well as housing prices continue to rise in Summerlin. Why did an
[…]
October 23, 2023
Las Vegas Realtor Featured in Readers Digest-Michael Bondi, a Las Vegas Realtor for over 19 years was recently featured in Readers Digest. The article's title is "This is the No. 1 City People Want to Move to in The U.S.. Las Vegas has become a major city since it's massive
[…]
Besides being a resident of Summerlin, I will give you plenty of information about the community as well as anything Summerlin real estate related. In conclusion, make sure you chose a Summerlin Realtor that knows The Ridges. I will help you navigate this amazing community and locate your next dream home! 
Call me today for personalized service and quality results. 702-768-2552.