Is Las Vegas 1 Step Closer to Getting The Oakland A's Baseball Team? Just in the past few weeks several things have happened to Oakland possibly losing their American League team.  First off, there is NO federal transportation grant that they will receive from the U.S. Department of Transportation according to a January 24th article from the Review-Journal here in Las Vegas. Second, that loss amounts to $183,000,000.00 that was on the cities application for that federal grant.  Oakland's new mayor and city council have not responded to any media request for an update. Oakland A's to Las Vegas journey still has a lot of moving parts to it. Will we see the birth of the Las Vegas A's?
Is Las Vegas Still in The Mix?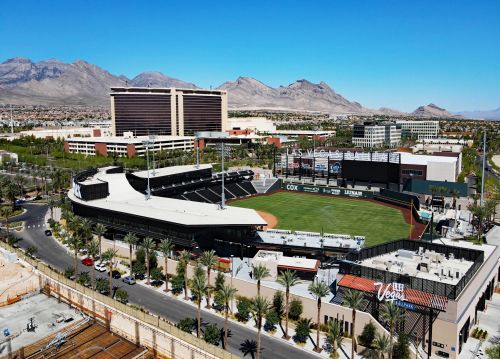 According to the Review-Journal Las Vegas is still the only city that the Oakland A's have been in talks with as well as talking to land owners on the strip. Another recent article from the RJ states that the Oakland A's are very interested in the Tropicana Hotel location located at Las Vegas Blvd and Tropicana. This site could easily hold a dome stadium as well as decent freeway and airport access. The Tropicana is old and needs to be torn down at this point. Adding a partnership between Bally's Corp that owns the hotel and the Oakland Athletics would be a great idea.
You can check out my drone video of this stadium here: https://www.youtube.com/watch?v=9kRM-ACIK7c 
For more information about Downtown Summerlin check out my Summerlin page: https://lvrealty4sale.com/summerlin-las-vegas-homes-for-sale/
When Will We Have an Answer? 
That's a great question. I wish I knew when we will have the Las Vegas A's or Las Vegas Athletics. A decision I would think would have to come sooner than later. The Oakland A's can only play in their current stadium until 2024. After that, if they relocate to Las Vegas, they will more than likely play at The Las Vegas Ballpark located in Downtown Summerlin.
A lot needs to happen by May of this year. Several deadlines have come and gone making the choices for the Oakland A's a lot tougher and not as great as they would have thought even 2 years ago. Will the new governor of Nevada step in with public funds? I doubt it. Will private business come up with the money? That might be a better idea and more realisitic. We are just going to have to sit back now and see what develops in the next few months. More updates to follow! The question is will the Oakland A's move to Las Vegas? Only time will tell at this point.