Summerlin Production Studio Project
Project Information: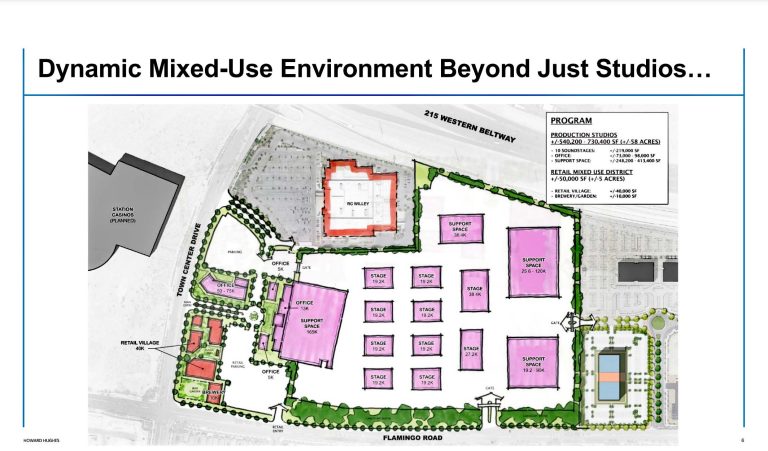 Summerlin Production Studio Project -Sony Entertainment along with The Howard Hughes Corporation want to build a 58 acre motion picture studio in Summerlin South. The location would be at the Northeast Corner of Flamingo and Town Center current where RC Willey is located. This location will also feature 5 acres of mixed use retail with a Brewery located within that mixed use space.  As your Summerlin Realtor, I keep up with all projects so that I can assist you with all of your Summerlin Real Estate needs.
Senate Bill 496 needs to pass the Nevada Legislature for this project to move forward. It would create a massive tax credit for Sony Entertainment and other motion picture and studio companies to relocate to Summerlin and Las Vegas. If this project is approved by the State of Nevada, expect the area to be transformed and redeveloped.
Station Casinos will build Flamingo Station located at the Northwest corner of the same intersection. With a hotel across the street from a major motion picture studio, this would be a game changer for Summerlin and it's residents.
What Can We Expect From This Project Here In Summerlin?
First off, we will need to see a massive increase in housing development to support the additional people that will relocate to the area. Housing right now in Las Vegas and Summerlin is at an all time low with little inventory and not a lot of options on the resale market as well as new home construction. If this project were to get approved by the Nevada government, I would expect to see that change.  Summerlin Housing projects would need to be started in the next few years and in the surrounding areas. I would also expect retail and commercial spaces to grow as well.
Plenty of jobs will be created from this project. Construction jobs, as well as other support services would also be in need too. Infrastructure would also have to improve for the area. The 215 Beltway is very close to this project as well as an off ramp. Getting around Summerlin will be more of a challenge if traffic increases to the area.
There will be a lot of postive things to look forward to when this project gets the OK. Additional money will flood the area, the local Las Vegas economy will continue to grow and prosper. Las Vegas and Summerlin will now be known as the new location for Hollywood. This will create new careers and jobs. It will also create more opportunities for Las Vegas locals.
Are you Relocating From California? 
If you are relocating based on the Summerlin Production Studio Project , as a Summerlin Realtor, I strongly suggest that you start planning out your potential move. I expect housing prices to rise based on this news and this project. Summerlin and Las Vegas already has a massive shortage of homes, condos and town homes.
Call me today to find out what your options will be. Yes, this project is still sevral years away from completion but I can help you plan out your future relocation to Las Vegas or Summerlin. Be sure to check out my other community pages for more information about Summerlin and Las Vegas Real Estate. Also, subscribe to my You Tube Channel here: www.youtube.com/summerlinrealtor
If you have any questions about Summerlin, Summerlin Real Estate or this project, contact me directly at: 702-768-2552. I look forward to becoming your Summerlin Realtor.