Are you looking for Summerlin Luxury Homes? Mesa Ridge Summerlin is located near the intersection of Town Center and Tropicana in Summerlin South. Created by Toll Brothers,  Mesa Ridge Summerlin has 10 different home designs to choose from. Sqaure footage of these homes start around 3,200 square feet and can go up to 5,000 square feet. The Homes feature a very modern design to them, open spaces when you enter the home, bigger lot sizes too. Toll Brothers Summerlin homes are in a class all by themselves. As your Summerlin Realtor, my job is to provide you with the most current, up to date information about this community and others that I serve.
Mesa Ridge Summerlin has two story and one story homes within 4 different home collections to choose from. There is a community pool, fitness center and a clubhouse for social interactions.
Mesa Ridge Resales on The MLS 
Mesa Ridge Summerlin in Summerlin South is pretty much sold out. Several resale homes are available on the MLS. Pricing, availabilty are subject to change. Pricing starts around $1,750,000.00 for around 2,900 square feet and can go up to almost $3,000,000.00 for 4,414 square feet.
306 homes make up this Toll Brothers Summerlin community. It is also located just south of the Summerlin community called Ascension Summerlin. This commuity is current under construction and will also have a Toll Brothers Summerlin community within it's gates. Check out this new build  community here: https://lvrealty4sale.com/ascension-summerlin/
The Summit Summerlin is also to the north of this community too.

The Area of Mesa Ridge Summerlin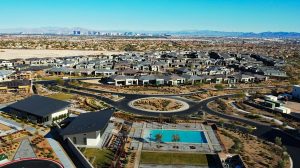 The location is surrounded by hiking and bike trails, beautiful mountain and city views, plenty of shopping, resturants and gold courses too. Close to Downtown Summerlin, great freeway access and much more! Summerlin is a master planned community. This means that the area around Mesa Ridge Summerlin has been well thought out and planned for current and future use.
Be sure to check out my Downtown Summerlin page to see what this area has to offer for shopping, dinning and entertainment: https://lvrealty4sale.com/summerlin-las-vegas-homes-for-sale/
Mesa Ridge Summerlin 4K Drone Footage Videos
Active Listings In Mesa Ridge Summerlin
Sorry we are experiencing system issues. Please try again.
Final Thoughts
As your Summerlin Realtor, it is my job to represent you. In the state of Nevada, the builders represent themselves, not you. When you hire me as your Summerlin Realtor, I am free of charge to you. My goal is to represent your best interest from the start of the process to the end of the process. This includes, reviewing of contracts, assiting in planning out what lot to buy, going to all inspections and walk throughs during the build process.
Communicating with contractors, sales staff, construction superintendents, and making sure there are no surprises during the building process. If you have any questions about Summerlin real estate, Summerlin Luxury Homes or just questions about Summerlin in general, please contact me directly at: 702-768-2552.