Blog Title: Your One-Stop Shop for all Things Skye Canyon Las Vegas Real Estate! Are you looking for a Skye Canyon Realtor? Interested in new home construction or the resale marker? Or, maybe you're ready to sell your current home and move up to something bigger and better? No matter what your real estate needs are, I've got you covered. I am your one-stop shop for all things Skye Canyon Homes and Las Vegas real estate!
New Home Construction:
If you're in the market for a brand new home, look no further than Skye Canyon. There is a wide selection of new homes that are sure to meet your every need and want. From small starter homes to large estate homes, this community has it all! And, with new construction homes popping up all the time, the possibilities are endless!
Be sure to check out my youtube.com channel with amazing drone footage of Skye Canyon:
https://www.youtube.com/playlist?list=PLj-Uskw4C0SN4NFPGVtZpajp8kd8O8W-R
Homes for Sale:
If you're not interested in a brand new home and would prefer something that's already built and move-in ready, then I've got you covered there as well. No matter what your budget is, I can help you find the perfect home that's just right for you and your family.
Click here to search for homes for sale in Skye Canyon: https://lvrealty4sale.com/skye-canyon-homes-las-vegas/
Realtor Services:
Not sure where to start? No problem! As an experienced Skye Canyon Realtor, I am here to help guide you through the entire process. I will work closely with you to identify your needs and wants so that I can narrow down the search and help you find the perfect home that meets all of your criteria. I will also be there with you every step of the way during negotiations and escrow so that you can be confident that you're getting the best possible deal on your new home.
With over 18 years of full time real estate experience, I can help you with all of your Las Vegas real estate needs. If you are also active duty military, check out my active duty/veteran web page: https://lvrealty4sale.com/active-duty-military-and-veterans/
Check out my 100+ 5 star reviews on zillow: https://www.zillow.com/profile/YourSummerlinRealtor
Conclusion: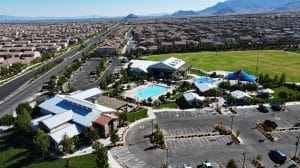 Skye Canyon has something for everyone when it comes to real estate needs! Whether you're interested in purchasing a brand new home or an existing home, or if you need assistance from me, I've got you covered. Contact me today to get started on finding your perfect Skye Canyon home!