Moving to Las Vegas: Why People are Leaving Los Angeles-Los Angeles has been the home of the entertainment industry for so long that it is considered the entertainment capital of the world. However, despite the plethora of opportunities that LA offers, many residents are leaving the city in droves. One of the popular destinations for relocation is Las Vegas, Nevada. So, why are people leaving LA and heading for Sin City? In this blog post, we explore the reasons behind the exodus from Los Angeles to Las Vegas.
The Cost of Living
The high cost of living in Los Angeles is one of the key reasons why people are packing up and leaving for Las Vegas. In LA, the cost of living is 43% higher than in Las Vegas, according to Numbeo. With lower taxes, housing, groceries, and utilities, Las Vegas is an attractive destination for those who want to save some money. We are more affordable than California.
Job Opportunities
While Los Angeles offers a lot of job opportunities, it's also very competitive. Las Vegas, on the other hand, has plenty of job opportunities in gaming, hospitality, and entertainment. The city is home to some of the biggest casinos and resorts in the world, including the Bellagio, Caesars Palace, and the Venetian. The hospitality industry in Las Vegas is always growing, and it's not just restricted to the Strip. The suburbs are also seeing a lot of growth in the tech and healthcare industries, which is attracting more professionals to the city. With the possibilty of the entertainment industry leaving Los Angeles and relocating to Las Vegas and Summerlin, this city will change for the better and add more jobs in different career fields than ever before!
Climate
Another reason people are leaving Los Angeles for Las Vegas is the climate. Los Angeles is known for its beauty but is plagued with drought and heatwaves. Vegas, on the other hand, has a dry desert climate that is milder than LA. The city is also close to a variety of outdoor activities like Lake Mead and Red Rock Canyon National Conservation Area, which are perfect for those who want to escape the urban landscape.
Las Vegas is very seasonal. We have a 4 types of seasons here besides a hot summer. It's a great place to call home and once you are tired of the heat, it starts to cool down. When you are tired of the cold, it heats up!
Quality of Life
The quality of life in Las Vegas is quite high, thanks to the great weather, low cost of living, job opportunities, and numerous entertainment options. You can find a range of activities to do in Las Vegas, including hiking, shopping, dining, and more. Moreover, there are no state taxes in Nevada, making it an excellent place for retirees to settle down.
New places to visit are coming up all the time. We are a growing city with plenty of things to do.
Commute
Commuting is one of the most significant challenges for LA residents, with some spending several hours every day stuck in traffic. Las Vegas is less congested, which makes it easier to get around the city and the suburbs. The rush hour is less intense, and the roads are also better maintained, making the commute less stressful. Are you tired of the communtes on the 405, 5, 101 or 134? Our traffic is nothing like in LA. I can get from one part of the city to another in less than 30 minutes.
Conclusion: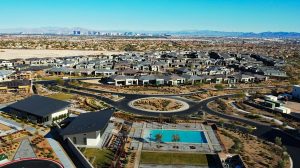 The reasons why people are leaving Los Angeles for Las Vegas are numerous. From lower cost of living and more job opportunities to more outdoor activities and a better quality of life. Although LA city has a lot to offer, it comes with its challenges that many residents find unappealing. Las Vegas provides an opportunity for Californians to enjoy a different lifestyle, a change in scenery, and more importantly, a chance to build a better future. If you are thinking of moving from Los Angeles to Las Vegas, Let's chat. I did it, so can you! 702-768-2552.