The Ultimate Guide to Living in Summerlin, Nevada-Summerlin, Nevada is a master-planned community located on the westside of Las Vegas. With stunning scenery, well-managed neighborhoods, and a wide range of recreational activities, it has become one of the most attractive places to live in the United States. As it is growing in popularity, especially among California home buyers, I'm put together the ultimate guide to living in Summerlin, Nevada. As your Summerlin Realtor, I look forward to helping you find your perfect Summerlin Home. For more information about Summerlin real estate, Summerlin Luxury Homes, and Summerlin Homes, please read below.
Summerlin Real Estate: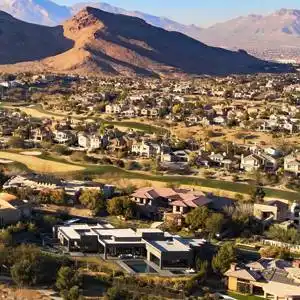 Summerlin has some of the most beautiful homes and condos in the state of Nevada. Homes range from 1,000 square feet to 15,000 square feet and have a variety of styles, including modern, Mediterranean, and Spanish. With almost 150 neighborhoods, the master plan offers many different options for home-buyers. The homes here are well-built and have some of the most beautiful architecture in the state.
Summerlin features condos, town homes, single family homes as well as Summerlin luxury homes. Pricing starts around $450,000.00 and can go well over $18,000,000.00 for a true custom luxury home.
Recreation:
There is something for everyone in Summerlin, Nevada. The community has several parks, including the beautiful Red Rock Canyon National Conservation Area. Residents here can also appreciate golf courses, walking trails, and running paths to enjoy outdoor activities. Downtown Summerlin offers plenty of shopping, dining, and entertainment options.
Schools:
Summerlin has some of the top-rated public and private schools in Nevada. The community is known for its high-quality education. Several elementary and middle schools feed into the popular Palo Verde High School, which has consistently earned its place on the US News & World Report's Best High Schools list.
Community Life:
Summerlin has created a vibrant and stimulating community. There are several community groups, clubs and events that bring residents of Summerlin together to interact and enjoy common hobbies. The community regularly organizes events such as farmers' markets, movie nights, and food festivals, ensuring a well-rounded lifestyle. With a friendly and welcoming vibe, residents enjoy a rich social life and a true sense of community in Summerlin.
Conclusion:
Living in Summerlin is an experience like no other. With a wide variety of home style options, top-notch schools, endless recreational activities, low crime rates, and a strong sense of community, it's no surprise that homebuyers from California have been flocking to this master-planned community. The increase in popularity of living in Summerlin has demonstrated its fantastic quality of life, and homebuyers will undoubtedly find it a great place to call home.
If you have any questions, please contact me anytime at: 702-768-2552. I look forward to becoming your Summerlin Realtor.