Why You Should Consider a Las Vegas Luxury Home-When you think of Las Vegas, what comes to mind? Glitzy casinos, world-famous shows, and sinful nights out on the town? While all of that is true, there's another side to this desert oasis that many people don't know about—the luxurious side. Believe it or not, some of the most beautiful and opulent homes in the country are located right here in Las Vegas. As a Las Vegas luxury Realtor, I specialize in communities from Summerlin to Henderson. It's my job to help you navigate all of the listings and to help you find Las Vegas luxury homes for sale.
If you're in the market for a luxury home, here are a few reasons why you should consider making Sin City your new home. If you are looking for Las Vegas luxury homes for sale, check out the rest of this page for more information.
The Luxury Lifestyle:
In Las Vegas, you can have anything you want—and that includes a luxurious lifestyle. Whether you're looking for a high-rise condominium with stunning city views or an expansive estate nestled in the foothills, you'll find it here. And when it comes to amenities, no other city can compete. From 24-hour concierge services and private elevators to resort-style pools and state-of-the-art fitness centers, Las Vegas has it all.
From Summerlin to Henderson, we can explore your options as well as what you are looking for in a Las Vegas luxury home.
Are you looking for a custom home with a massive backyard? What about a custom kitchen? If you can dream it, Las Vegas can build it. We can also check out resale homes on the MLS too. In Las Vegas, you have plenty of options when it comes to searching for a luxury home.
A World-Class Destination:
Not only is Las Vegas a great place to live, it's also a world-class destination. When friends and family come to visit, they'll never be bored. Check out the shows, restaurants, clubs, and casinos that the city is known for.  There are also numerous museums, art galleries, golf courses, and parks. If they get tired of all the action on The Strip, they can always take a day trip to nearby Hoover Dam or Lake Mead.
An Ideal Location:
Las Vegas may be best known as a playground for adults, but it's also an ideal location for families. The public school system is excellent, and there are plenty of private school options as well. No matter what stage of life you're in, Las Vegas has something to offer everyone.
From outdoor activities such as hiking, off-roading, biking and much more, Las Vegas has it all! Shopping, restaurants and sporting events are also some great ideas to check out too.
Conclusion: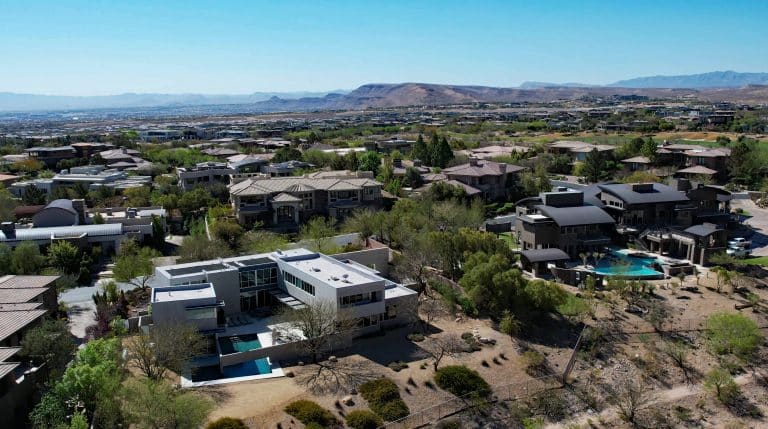 As you can see, there are many reasons why Las Vegas is an excellent choice for luxury home buyers. From its lavish homes and world-class amenities to its prime location and endless entertainment options, this desert oasis has something for everyone—including you! So what are you waiting for? Start your search for the perfect Las Vegas luxury home today!
Call Las Vegas luxury Realtor Michael Bondi today for more information. 702-768-2552.